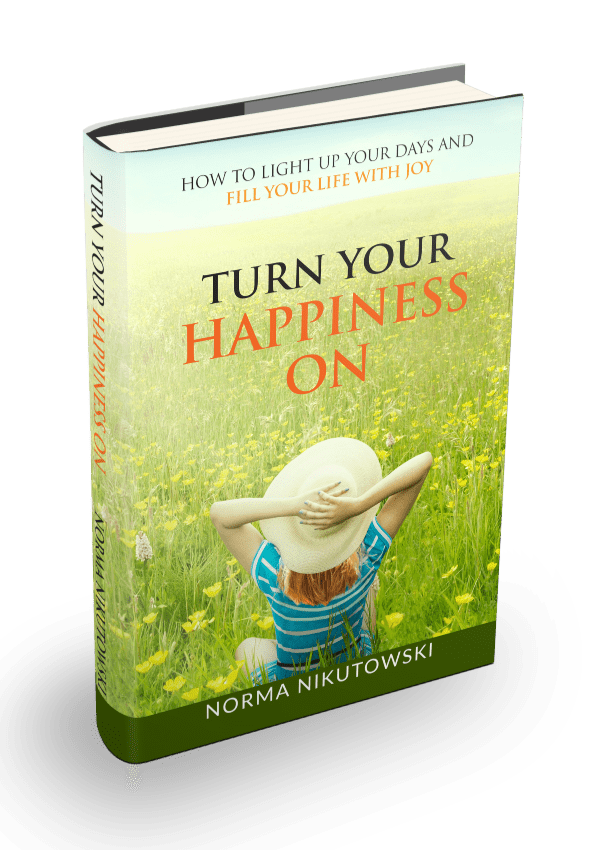 By Norma Nikutowski
Turn Your Happiness On
How to Light Up Your Days and Fill Your Life with Joy
Do you feel stuck with no direction?
Every day is a new opportunity.
Become the person you want to be.
In Turn Your Happiness On you will find the most powerful strategies to change your life right now.
A stirring narrative with plenty of positive energy. Nikutowski shares the techniques and exercises that helped her to renew her zest for life, in the hope that they'll help to guide readers who may be experiencing their own crises.
Turn Your Happiness On is a celebration of life that focuses on how to get to a place where happiness is an automatic response to daily events. It's meant not just for those already on the path to joy, but especially for readers who feel overwhelmed, exhausted, and frustrated, providing a roadmap of scientifically proven strategies for attaining the ultimate goal of happiness.
–D. Donovan, Senior Reviewer, Midwest Book Review
Turn Your Happiness On is Norma Nikutowski's practical guide to living a happy and healthy life. The work begins by defining happiness as seeing the good even in the bad and having a positive outlook on life. Definitely a must-read for all readers especially those interested in living a joyful life.
Many topics that interfere with personal happiness are addressed along with helpful suggestions for solutions that will free one up to find what truly makes them happy. Action steps and intentional development of daily good habits are two useful tools suggested which can help one attain their deepest personal happiness as well as thoughtfully pinpointing their God-given gifts and dreams. 
Turn Your Happiness On by Norma Nikutowski is an inspiring book. She teaches you how to explore what makes you happy through practical techniques, exercises, and brainstorming activities. Norma has an easy-to-read, colloquial style that draws the reader in. While not a memoir, she shares relevant experiences, along with the changes and improvements that shes made in order to build a happier life. 
From the working mom who struggles to find a life outside the day to day, to the veteran of the armed forces whose trying to integrate back into non-military life, to the student trying to find out what they want to do for the rest of his or her life, and even the multi-millionaire who has everything money can buy, this book is an excellent source at identifying successful ways of turning your happiness on!
Is Turn Your Happiness On the right book for you?